HOW TO SETUP SMART IPTV APP
(Smart IPTV is a paid app and comes with 7 days free trial, it costs $5.49 to purchase the app for a lifetime license)
SAMSUNG has discontinued this app, please install SMART STB, NET IPTV or SET IPTV app instead, on Samsung TVs and send us the MAC address shown in the app.
Before we get started, you need an IPTV subscription and your m3u file link which we will send once you sign up.
Installing the app:
The application is no longer available in the Google Play / Amazon Apps store. You can install the application on your Android TV or Fire TV device by entering apk.siptv.app in the Downloader app or your device's browser's URL field. You can also follow this guide to sideload applications on Android TV devices or this guide to sideload applications on Amazon Fire TV devices.
You can install the application on your Android Box device by entering apk.siptv.app in your device's browser URL field or using any APK or File Manager installed on your device.
Make sure your device has Android 5.0+ version installed. Phones/tablets are not supported yet.
Currently supported Smart TVs:
App can be found on the supported TV's App Store. For Android Box, please use the link above. Onetime activation fee may be required when using the app, however, you can try it for seven days. We have nothing to do with this fee.
Setup is fairly simple:
Open your SMART-IPTV app on your TV
Write down the MAC address that will be shown on the right of the app (see the video above)
NOTE: We can take over at this point if needed, just let us know through the contact form or reply to your order confirmation email. If you would rather do it yourself, please carry on with the instructions below….
Enter your MAC Address from App under Add external playlist links (URL), with auto-update
Enter m3u URL that we provided into Link (check your email to get the m3u playlist)
Tick Save Online Option & Leave EPG field blank, then click Send
Go back to App and restart the app.
Channels should now be loaded and you are ready to use our IPTV services. (Please press the blue button on your TV remote to see countries list)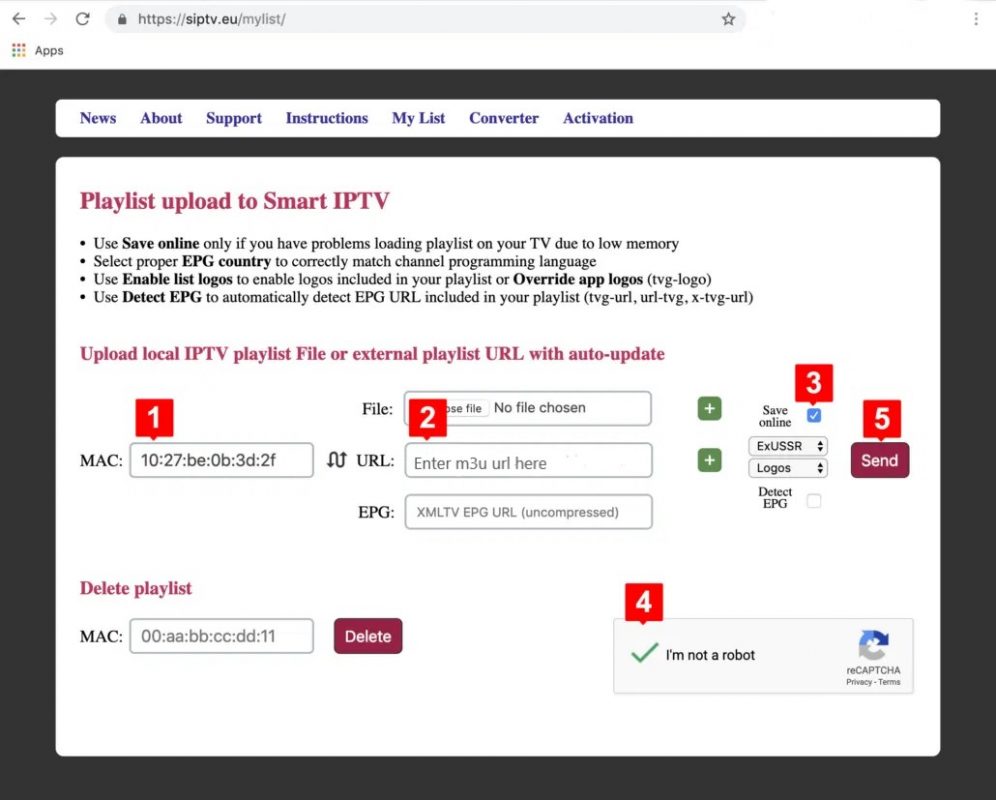 HOW TO CHANGE COUNTRY:
FOR SMART TV's:
Press Blue button on the remote.
FOR ANDROID & FIRESTICK:
Please press OK on your remote
Channel List will appear.
Please Press & Hold OK on remote
A menu will appear
Then go to Groups & Press OK on remote
You will see a list of all countries including VOD